The 'Ghost' ROC Newman Rolex Daytona
The vintage Rolex world is never more awake or excited than when a new version of an iconic watch is discovered. In 2014 Christie's offered for sale a never before seen black dial Oyster 'Newman' reference 6263. The watch initiated a lot of discussion and heated debate on the Vintage Rolex Forum (VRF) and Roberto was one of the leading voices in the debate. Here we share some of Jatucka's key points and exclusive dial pictures.
The watch was offered in the November 2014 Chritie's Geneva sale and the catalogue description was as below: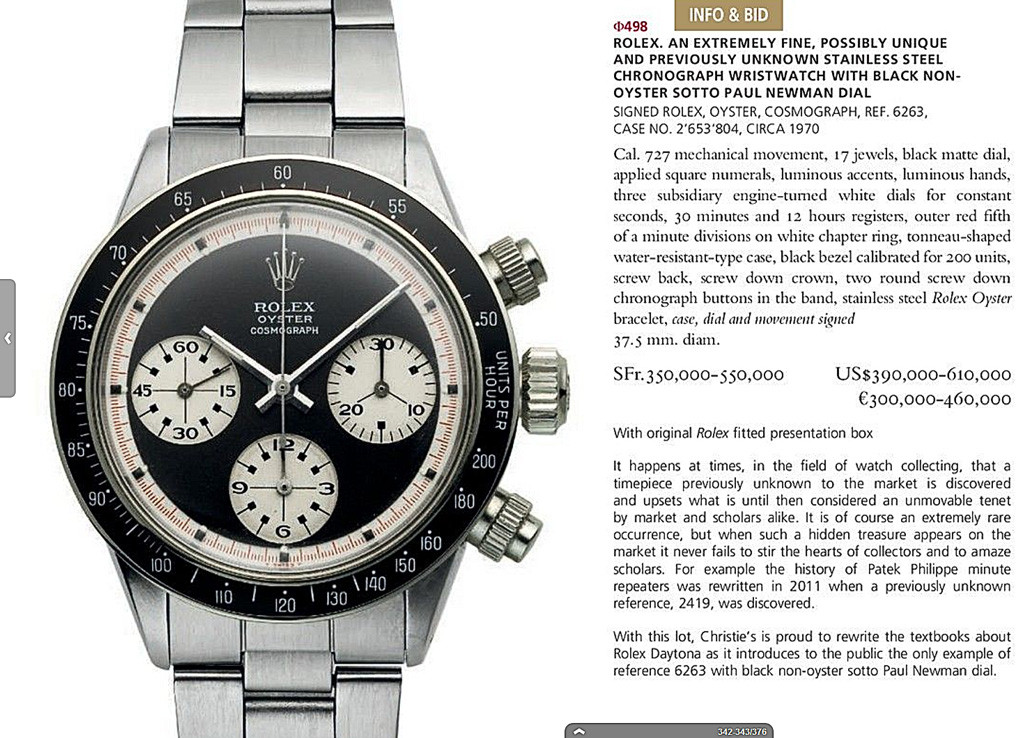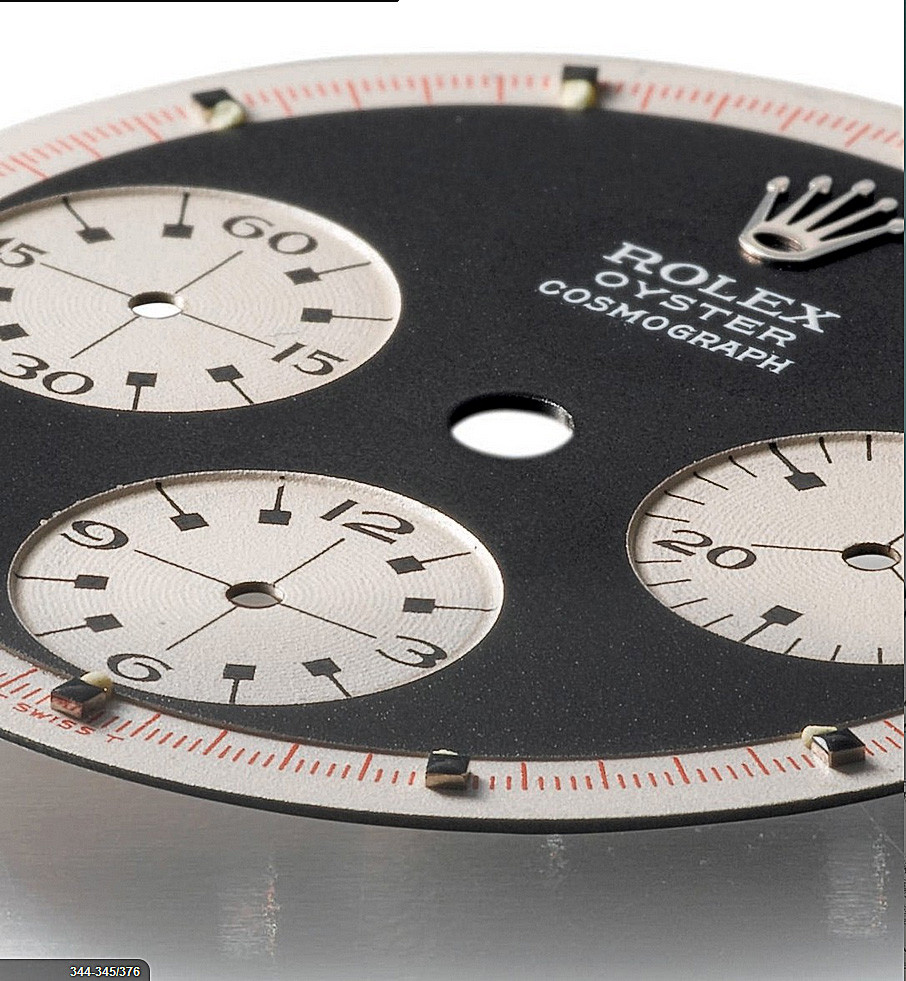 The Halo Effect
It's worth noting that up until this point, the only accepted black dial screw-down pusher Newman was the so-called RCO (Rolex Cosmograph Oyster), or 'Sotto' (below) as it is known in Italy. The dial immediately divided the community. Roberto's key points were as follows:
"The ROC font is perfect, almost impossible to say that it is not original. So what do we have here? In my opinion we have an original PN "base" dial with what seems to be an original ROC font (just a little later, maybe). The PN Black ROC Dial has always been the most discussed, debated, disputed, criticized and disapproved of all the Paul Newman dials. If somebody was so skilful and so clever to be able to do that kind of printing, I really don't see the reason in to set up as a PN Black ROC Dial – logically it makes more financial sense to 'make' an RCO dial. 
There was a noticeable 'halo' pattern around the ROC text, which was first highlighted by VRF members:
The 'Halo' Around the ROC Text (pic edited by P Stahl)
Roberto: "What other factors are there? There is a 'halo' around the ROC section of the dial. Maybe something different happened to the dial. If we presume that the Dial is original (as for original i mean a Rolex/Singer original Rolex Dial), what else could have happened there "in house" at Geneva?".
Jatucka's View
Roberto had been given, as part of his work consulting with auction houses, some exclusive pictures of the dial:
The important 'SINGER' stamp was now available for people to see in hi-res.
As is the Jatucka way, Roberto created some comparison shots to help people make an informed decision:
T SWISS T Comparisons
ROCs Together
Now let's look at the details…
Roberto wrote: "The only different thing, as those who go to Geneva for the preview will be able in to notice, is the kind of black, it is less 'porous' than the 'normal, well known' Black PN Dial. The Dial could be less 'porous' because of the 'second' print. What I believe, is that maybe the second print was done before the dial left Rolex. Sometimes we try to find a logic as for OUR logic, where there is any logic. If i should follow logic, for example, i dont see any logic sense in the PN "Ghost" Daytona -why to erase in-house the Daytona printing? Were they drunk ? And why erase it in that raw way, with that halo and that "shiny" paint all around the "Ghost" Daytona ? It doesn't make sense, but we know that they did it, we saw several PN Dials with the "Ghost" Daytona, so we now know that it is ok. I'm not saying that I can be 100% sure about this Black ROC, nobody can be. And who could give us a confirmation that it is correct? Rolex or Singer? Let's suppose that somebody is so clever and skilled to make that ROC print and  waste it on the ROC and not make an RCO?
Today we like so much to talk about 'provenance', but which 'provenance'? 'Provenance' after 40 years? How many hands has that watch passed through? We hear now so many captivating 'provenance' stories, but how many times can it be really true – 10 out of 100…maybe less? For example, one of my client showed me a 16520 S Brown Compax just back from Rolex Service, with the Service paper. The serial number was redone, but the watch passed the Rolex check! If somebody send a watch with a redone SN, but he takes care to clone a real SN, there is a very high chance that the watch will 'pass through'. Where is the truth ? Unfortunately we don't have a time machine and when I see something 'new, never seen', I have a method that i think that is a good method – I put it in my 'mystery folder' and i wait, sometimes for years, and then a second one comes out, and then a third one. When this happens it is one of the most exciting moments of this passion. Other times it never happens, and the 'mystery' stays unresolved. At the end of the story, with Rolex we can just try to understand; nobody has the grail in his pocket!"
There were certain questions also about the printing quality. Some pictures, supplied by Ben Clymer from Hodinkee, made the text look puffy and glossy:
Photo by Hodinkee
Photo by Hodinkee
"The 'incident' light over the dial, with the dial inclined in that position, is totally different from a front pic. Because of this you see the print so rich and so 'puffed up'; all because of the 'incident' light.  I think that the pics that Hodinkee sent us (very kind, thanks a lot!) are a bit misleading as there is a very strong 'incident' light in those pics.
Let me show you what i mean when i talk about the effect of an 'incident' light. What you will see here is the SAME watch. If i take a pic with a normal, homogeneous, uniform light, i will see the watch in this way. The white print looks like a "normal" print and the dial looks almost intact, just few hairlines."
Straight On – uniform light shot of GMT Master
"If I take a pic with a strong, side 'incident' light, this is what i will see. The white print looks very "rich" and "puffy" and I can see very well the white print's consistency and texture and, surprise, the Dial is totally spidered. Again, this is the SAME watch!"
What a difference a light makes!
In Summary
We will probably never know the how, why and when of this unique Black Ghost dial Paul Newman Daytona. And still, opinions are split about the watch. It sold strongly at Sfr 416,000 and the debate was a fun one!