The Omega SM300 Ref 165014 HS10CD
I am delighted to share with you all a watch that I bought in the UK back in 2011. The watch is, I believe, not just rare but quite possibly unique.
The watch took me almost one year to acquire and is an Omega SM300 reference 165014 from 1962 that has "HS10 CD" markings on the caseback.
Information on HS Markings (MWR link)
To own this watch was, for me, a real dream come true. I had followed this watch's story from the beginning when it was found by an English friend.  The watch was originally discovered with a very badly damaged bezel 'insert' (if we can call it that ) and with hands from an Omega Ref 2777-1 (also a reference that was issued by the UK MOD). I suspect that the hands had been mounted during a service, most likely by an MOD watchmaker.  The insert had been damaged at some point during the watch's military service.
The watch in 'as found' condition
I had already received confirmation from the Omega Archives that the watch was indeed delivered to the UK MOD. My English friend later requested and received a full archive extract.
Some Tender Loving Care
The watch required some work and I passed it onto my great friend Aldo, who did some amazing work on the watch. In preparation for one day owning this watch, I had put aside an intact ring, in practically new-old-stock condition. I confess, however, that the watch will remain with the insert that was restored by Aldo – I must admit that it is very beautiful, Aldo did a great job! And to be honest, I'm afraid of damaging the new insert I have.
Here are the images of this dream timepiece for every fan of military watches!
Interesting Military Markings
I'd like to share with you some more interesting caseback markings from different watches and sections of the military.
Up first is a very rare Rolex A/6538. I'd like to note a very important detail – above the 0552 Royal Navy  code on this A/6538 there was also a "HS" engraving at one point. In the below picture I could not highlight it (it was deleted at some point when it was re-issued), but with the watch in hand, against the light, it was visible. In the photo we can see just the Broad Arrow of the previous Assignment
 HS10 Royal Navy Issued Rolex Submariner reference A/6538
My second example is another Omega SM300 Ref 165014, belonging to my friend M.W. Also this, I believe that at the moment is the only known specimen of SM300 Ref 165014 with such Assignment (0552 Royal Navy). It is my theory, which seems logical to me, that this specimen probably had the HS10CD designation too at some point. I expect that the HS10 was removed when issued to different branches of the Navy.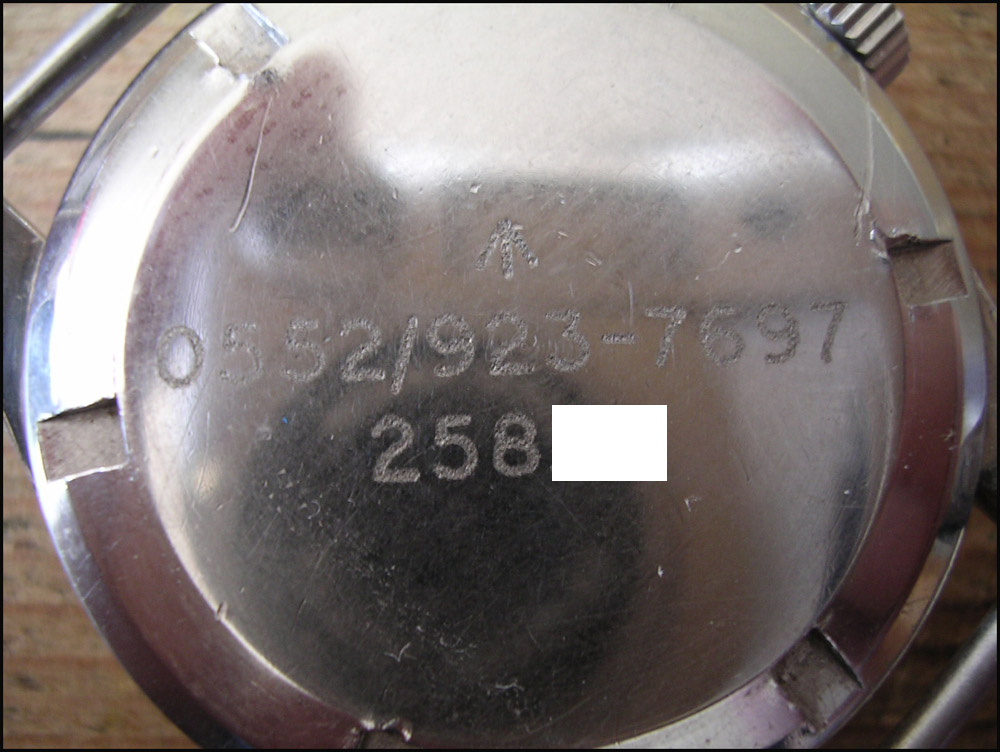 Omega SM300 Ref 165014 Issued to the British Royal Navy
Last, but by no means least, I present to you a Rolex 5512 pointed crown guards 0552 Royal Navy issued watch from 1962.  With difficulty, since there are only three known examples of these at the moment (1 with almost invisible engravings and the other reengraved in 1976), the MOD were able to reconstruct, thanks to the serial and date inside the casebacks, two batches – one from 1959 and one from 1962 (thanks J. & thanks H.M.). Inside the caseback is engraved, as in the case of the A / 6538 (but unlike the Omega SM300), the watch's serial number.
Royal Navy Issued Rolex Submariner reference 5512
I hope these notes have been of interest to you .
Thank you all and see you next time.
Ciao, Jatucka